Report for IASC Data Analysis Competition 2013

The IASC Data Analysis Competition 2013 accepted poster submissions from February 1st to May 15th, 2013 with the following main website: http://www3.stat.sinica.edu.tw/data.competition/. Yuan-Chin Ivan Chang of Academia Sinica was in charged of the submission process. The committee of Judges (Jaromír Antoch, Yuan-Chin Ivan Chang, Chun-houh Chen, Chul Eung Kim, Junji Nakano, Antony Unwin) eventually recommended two winners to the President of IASC and authors of these two posters were invited to present their studies at the Joint Meeting of the IASC Satellite Conference for the 59th ISI WSC and the 8th Conference of the IASC-ARS in Seoul on August 23rd, 2013. Traveling and local support for winners were provided by organizer of the 8th Conference of the IASC-ARS.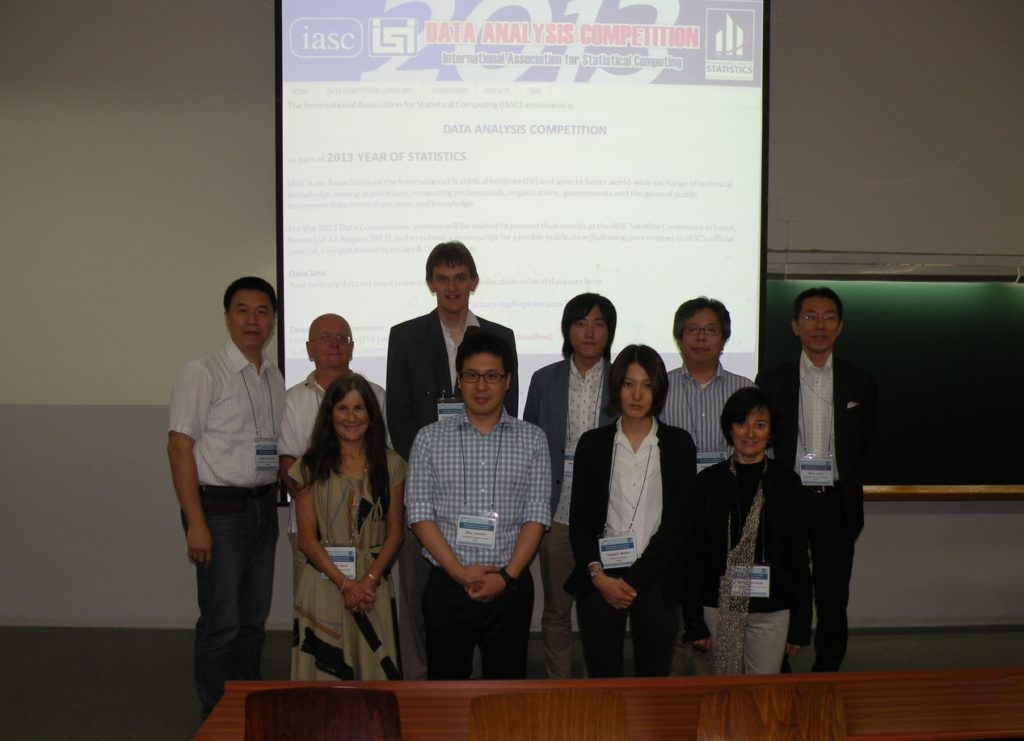 Poster winners of IASC Data Analysis Competition 2013 (by alphabetical order of first author):
Authors: Kim, C., and Choi, S. (University of Florida)
Title: Marginal Structural Models for Causal effects of Higher Education Rates on Cancer Mortality Rates: Should we make our society highly educated?
Authors: Takagishi, M., Hirotsuru, K., Mitsuhiro, M., Kusaka, T., and Yadohisa, H. (Doshisha University)
Title: Educational feature extraction across nations using UNdata
---
The International Association for Statistical Computing (IASC) announces a:
DATA ANALYSIS COMPETITION
as part of 2013 YEAR OF STATISTICS.
IASC is an Association of the International Statistical Institute (ISI) and aims to foster world-wide exchange of technical knowledge among statisticians, computing professionals, organizations, governments and the general public,
to convert data into information and knowledge.
For the 2013 Data Competition, winners will be invited to present their results at the IASC Satellite Conference in Seoul, Korea (22-23 August 2013) and to submit a manuscript for possible publication (following peer review) to IASC's official journal, Computational Statistics & Data Analysis.
DATA COMPETITION GUIDELINES:
Your primary data set must come from one of the education-related data sets from
http://data.un.org/Explorer.aspx?d=UNESCO
This is the link with the identification:
"UIS Data Centre UNESCO Institute for Statistics (UNESCO UIS)"
and accompanying information:
The UNESCO Institute for Statistics (UIS) provides UNdata with a subset of the more than 1,000 indicators which may be found in the UIS Data Centre. The UIS Data Centre contains indicators and raw data on education, literacy, science, culture and communication. The UIS collects these data from more than 200 countries and international organizations.
The UIS is the primary data source of education, literacy and science data for leading publications and databases, such as:
Education For All Global Monitoring Report
World Development Indicators
One of the goals of this competition is to connect the information in this data set with suitable relevant data sets. Some examples (also from the same web site) include:
National Accounts Estimates of Main Aggregates
Environment Statistics (water, waste)
Energy Statistics
Crime Statistics
Note that the years of coverage for all datasets are not the same, and that, in some cases, the "raw data" may need to be standardized to ensure comparability across nations (e.g., standardizing for different population age distributions of the different countries).
In addition, you can use any other available data sets that are available online.
You must clearly specify in your poster how others can obtain your data, i.e., by listing the starting URL and the steps required to obtain the data.
In your analysis, you may concentrate on a single country (e.g., your own country), a block of countries in an economic or political region, or even the entire world.
You can also focus on a single year or on the temporal development, or on subregions/subareas within a country (if you can obtain such data).
You are allowed to work individually or in a small group of up to five participants on your poster.
Posters will be judged according to these criteria:
(a) Appropriateness of analysis
(b) Novelty of approaches used in the analysis
(c) Clarity of objectives, approaches, displays, and results
(d) Significance of findings
(e) Generalizability of approaches to data sets in other arenas.
(f) Overall quality of poster
Not all posters are expected to meet all five criteria to the same degree. Your poster may (but need not) be accompanied by a short description (maximum five pages). All materials must be submitted in .pdf format (see email address below).
FINAL SUBMISSIONS (PDF) ARE DUE ON 15 MAY 2013 (Extended Deadline).
SUBMIT TO: data.competition@stat.sinica.edu.tw
WINNERS WILL BE NOTIFIED AROUND 22 MAY 2013. WINNERS MAY BE ELIGIBLE TO RECEIVE PARTIAL SUPPORT TO PRESENT THEIR POSTER AT THE IASC SATELLITE CONFERNCE IN SEOUL, KOREA, 22-23 AUGUST 2013.
"HONORABLE MENTION" CERTIFICATES WILL ALSO BE AWARDED.
For inquiries about the competition, see:
http://www3.stat.sinica.edu.tw/data.competition
(Contact for further inquiries:
Prof Yuan-Chin Ivan Chang: ycchang@stat.sinica.edu.tw
)
For more information, see: