A Report Of The Second Physical Symposium On Applied Statistics With R Syntax
7th – 8th April, 2021
Postgraduate Auditorium, Nasarawa State University, Keffi, Nigeria
Under The Sponsorship Of International Association For Statistical Computing (iasc)
Facilitated By
Monday O. ADENOMON,
HND, PGDS, B.Sc., M.Sc., PhD, CStat., FRSS, FASI
The Chair, IASC African Members Group; Senior Lecturer, Statistics Dept., Nasarawa State University, Keffi
Email Contact: adenomonmo@nsuk.edu.ng
Telephone Contact: +2347036990145
Timothy A. OGUNLEYE,
HND, B.Sc. (Hons.), M.Sc. (Statistics), MSAN, Ph.D. (in view),
Sec-General, IASC African Members Group; Executive Director, Tim-R Programming Consult, Nigeria.
Email Contact: thompsondx@gmail.com
Telephone Contact: +2348068998580
Introduction
The two-day physical symposium on the application of R language for applied statistics, which was held between 7th and 8th April, 2021 at the Postgraduate Hall of the Nasarawa State University, Keffi, Nigeria, started with a 30-minute opening ceremony at exactly 9:00am (Nigerian time). The occasion was ceremoniously witnessed by the representative of University's Vice Chancellor, the DVC – Acad., where many were encouraged to learn the use of computing tools for statistical analysis.
With the short period of advertisement, about 194 applications were received and only 144 were shortlisted for attendance, hoping that two-third would be available for the symposium. The turnout was highly encourageous! By average, a total of 92 participants attended the symposium. Out of these, 67 (73%) were males while 25 (27%) were females. However, the participation cuts across many areas of human endeavours such lecturing, civil and public services, undergraduate, graduate, and postgraduate studentship, among others. The selection process was done with preference to those with computing skills and little knowledge about the use of computer.
Overview of the Symposium
The 2-day fully practical training on the use of R language to handle applied statistics was aimed at providing the participants with some of the basic skills required to anchor their statistical problems with ease. A number of topics most relevant to those in academia and industry were touched during the two-day physical togetherness. In addition, real life applications with industrial illustrations were extensively discussed with the participants. Case studies, syndicate or practical exercises, graphic illustrations and the likes were used as methods to deliver lectures via PowerPoint presentation, the use of flip chart stand, paper and markers. It is imperative to report that all the participants came along with their personal systems (laptops) with a view to making things easy for conduciveness.
Challenges
Well, there is no way we cannot have a record of one or two problem(s), even if all apparatus are made available. We planned to accommodate 80 participants but at the end, we discovered that our budget could not finance sufficiently the number of attendees recorded. Those we did not invite came as a result of the fact that it is a free symposium where one or two things would be gained in addition to their knowledge. We just tried to maneuver our ways out. Therefore, we received a lot of messages from many people in the southern part of Nigeria pleading that such kind of symposium should be repeated this year for them benefit as well.
Lessons Learnt
At the end of the training, participants were assessed through practical class and majority of them were able to identify and employ appropriate methodologies to extract meaningful information for decision making; get more acquitted with the use of R engine to solve basic statistical problems involving hypothesis testing and estimation; generate and tabulate sets of data, and perform statistical operations with a view to determining the appropriate statistical tool for handling some basic problems in statistics; and also were able to present information using graphics and visualization methods. This is just to mention but a few of the lessons learnt by the participants.
Conclusions
Free of charge, we were able to conduct a 2-day physical symposium on applied statistics using R syntax. It was a great experience! The two facilitators: Monday O. ADENOMON (PhD) and Timothy A. OGUNLEYE did excellently well in terms of lecture delivery as well as management of humans and resources. Participants' feedback forms were prepared using Google techniques and links were shared online via emails. Attendance was highly impressive.
In fact, this symposium has opened the minds of the participants to migrate from their old computing techniques to a more robust one like the use of R language. From the vote of thanks delivered by two selected participants (a male and a female), deep appreciations were extended to the President of IASC and his team for approving funds for this kind of training to take place in Nigeria. From their prayers, they demand for more of such, if possible, to be conducted in southwest, Nigeria before the years runs out.
Specifically, on behalf of the Chair and executive members as well as the generality of IASC African Members Group, I will like to say a very big thank you to Prof. Juergen and his team – IASC for their continuous supports and sponsors given to us with a view to encouraging the implementation of our strategic plans for the year 2021. Thank you so much.
Sincerely yours,
Timothy A. OGUNLEYE.
Secretary-General, IASC African Members Group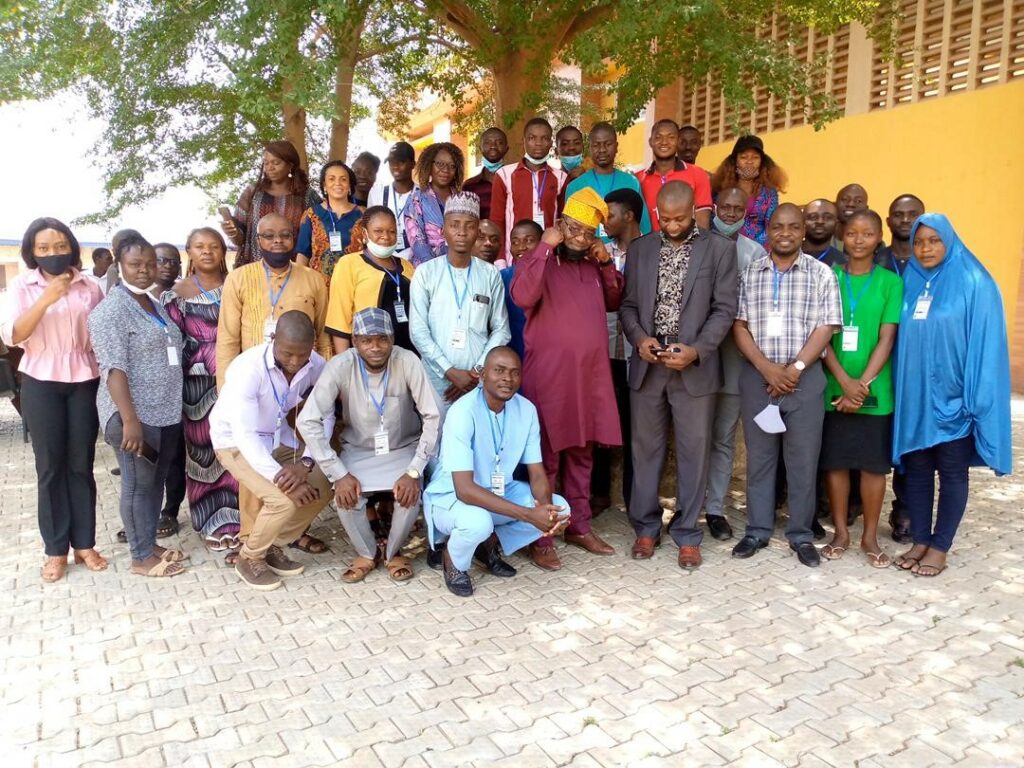 The Second Physical Symposium on Applied Statistics with R Syntax held at Nasarawa State University, Keffi, Nigeria.
DOWNLOAD (with more photos): REPORT (EXTENDED) OF THE SECOND PHYSICAL SYMPOSIUM ON APPLIED STATISTICS WITH R SYNTAX – APRIL 17, 2021