IASC News May 2023
IASC-LARS Awards 2023
Title: IASC-LARS Best Conference Paper Award 2023 and IASC-LARS Best Poster Award 2023
Summary: The Latin American Regional Section of the International Association for Statistical Computing (IASC-LARS) has awarded a Best Conference Paper Award as well as a Best Poster Award at the VII Latin American Conference on Statistical Computing (VII LACSC).

The mission of the Latin American Regional Section is to promote Latin American cooperation in pursuing the aims of the IASC. To fulfill this mission, participants attending seminars, conferences, meetings, and schools organized by IACS-LARS members or on behalf of the IASC-LARS may receive academic recognition, mentions, and awards.
During the VII LACSC, were proposed two recognitions "The Latin American Regional Section of the International Association for Statistical Computing (IASC-LARS) may award a Best Conference Paper Award at the VII Latin American Conference on Statistical Computing and a Best Poster Award at the VII Latin American Conference on Statistical Computing (VII LACSC). The name of the awards are IASC-LARS Best Conference Paper Award 2023 (IASC-LARS-BCPA23) and IASC-LARS Best Poster Award 2023 (IASC-LARS-BPA23)"
Winners:
IASC-LARS Best Conference Paper Award 2023 (IASC-LARS-BCPA23)
Winner: VICTOR EDUARDO LACHOS OLIVARES (USP, Brazil).
"Principal component analysis for compositional data in votes of the peruvian presidential election 2021"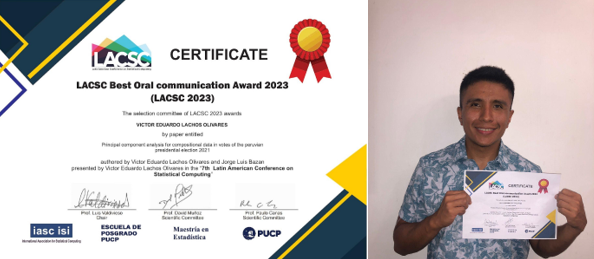 IASC-LARS Best Poster Award 2023 (IASC-LARS-BPA23)
Winner: JORGE ARANGOITIA FERNANDEZ BACA (PUCP, Peru)
"Bivariate survival regression for current status data using Copulas"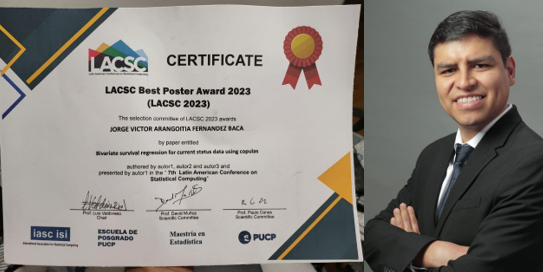 More details here: https://espolec-my.sharepoint.com/:b:/g/personal/mpastuiz_espol_edu_ec/EbPgxtegbU5KuV57YK0yI94BTWiB_NmCtMB2vPVieMUeAg?e=TaCw8c