IASC News August 2023
Webinar organized by the IASC African Members Group (August 2023)
Title: Webinar organized by the IASC African Members Group
Summary: The title of the webinar was "The Role of Backtesting in Forecasting Stock Returns Using rugarch R Package". The webinar took place on 11 August 2023 and was given by Monday Osagie Adenomon (Nasarawa State University, Nigeria).
Feedback from the IASC- President lecture at the WSC
Title: IASC-President lecture at WSC (Ottowa, July 2023)
Summary: The IASC President Lecture was given by Karen Kafadar (University of Virginia, USA) on "Statistical Computing in 2023: the critical role of robust statistical methods for Big Data". The lecture was much appreciated by the audience.
Some pictures of the event: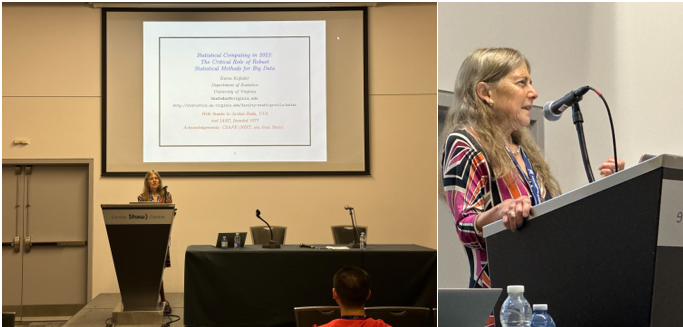 IASC – Data Analysis Competition award ceremony at the WSC
Title: IASC-DAC award ceremony at the WSC
Summary: The laureates of the Data Analysis Competition – 2023 – who were attending the WSC received their diplomas from the President Christophe Croux.
Some pictures of the event: