Existence of International Association of Statistical Computing (IASC) African Members Group
In the bid to create IASC African Section, there is existence of IASC African Members Group to get more registered African members to achieve this drive. With the support from IASC-ISI in 2020, the IASC African Members Group had two major activities (a Webinar and In-person training).
The IASC African Members Group held its first Webinar titled "Capacity Building for Statistician on Modeling Financial and Agricultural Data Using R" held from 28th to 30th September 2020. The resource persons are Dr. Adenomon from NSUK-LISA, Nasarawa State University, Keffi, Nigeria and, Prof. Olubusoye and Mr Adeniran from UI-LISA, University of Ibadan, Nigeria. The webinar had above 50 participants each day.
In-person training on Data analysis using R for Undergraduate Students organized by IASC African Members Group and LISA 2020 in conjunction with International Association of Statistical Computing and was supported by World Bank through International Statistical Institute (ISI) held 19th December 2020. The resource persons are Dr. Adenomon, M. O. of the NSUK-LISA, Nasarawa State University, Keffi, Nigeria and a member of IASC with Mr Michael, V. A of the department of Statistics, Federal Polytechnic, Bida, Niger State was a co-facilitator for the training.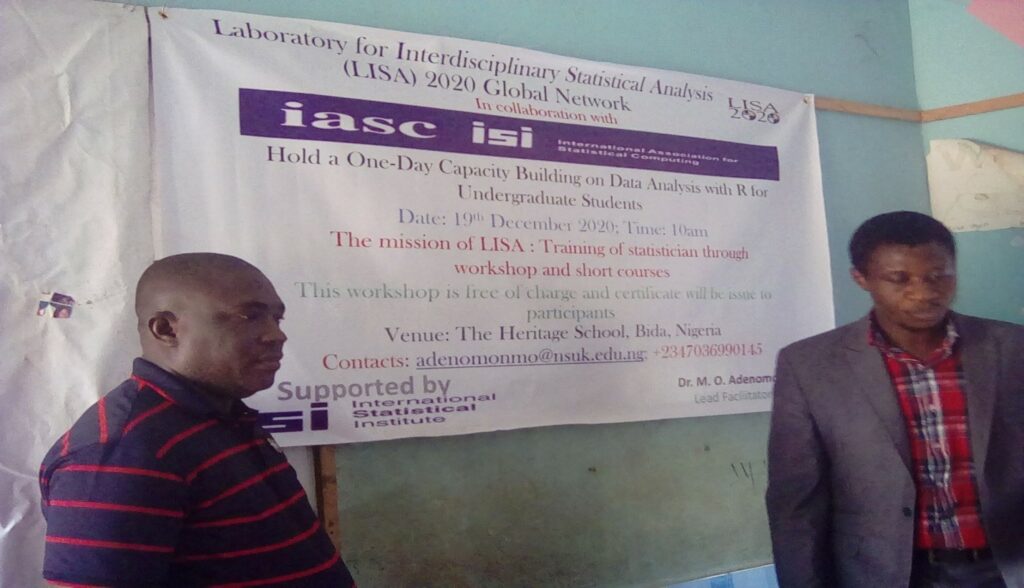 The participants are unfamiliar with R for data analysis. The training covers the following: Installing R and R packages on windows PC, Descriptive and elementary statistics, data generation from different distributions (Normal, uniform, poisson, binomial distributions etc), Normality testing (Jacque-Bera test), correlation and regression analyses including diagnostic testing, ANOVA (one-way, two-way, two-way with interaction and latin square design). The training had 31 participants where 14 participants are Female while 17 participants are Male
The ISI world Bank Trust Fund for Statistical Capacity Building Feedback form filled by the participants revealed the main outcomes of the training/conference that they can now use R to perform elementary statistics, correlation and regression analysis, performed Analysis of Variance using R.
Majority of the participants filled that they will like to attend online training, attend advanced data analysis with R as follow-up to this training. Lastly others promised to get personal laptop and PCs. Lastly, to increase African membership, we have created WhatsApp group of which Professors, Chief Lecturers and Accomplished professionals are Board members. Find the links to join the group (Join using only one of the links)
https://chat.whatsapp.com/JYlEiChkIPO8qMGoQy1Xjo
https://chat.whatsapp.com/Ju0Niz89pbJ0i3VCon56FN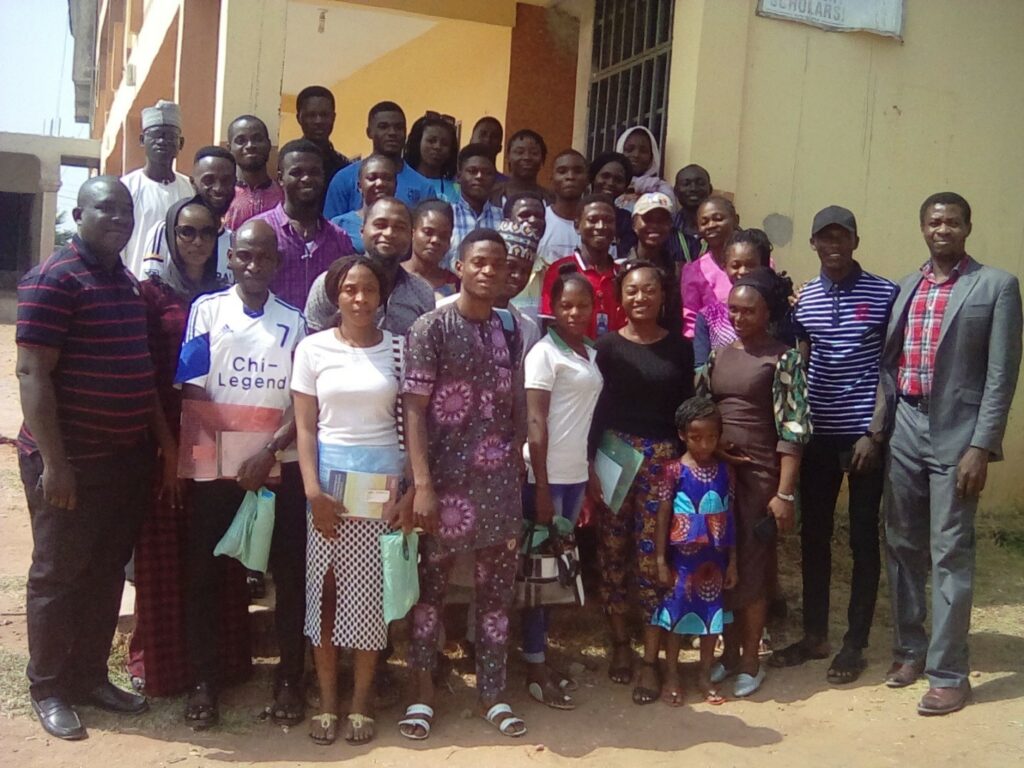 Feel free to contacts us:
Board members
Prof. S. U. Gulumbe; ugulumbe@gmail.com
Prof. K. E. Lasisi; kazeemlasisi@gmail.com
Chair, IASC African Member Group: Adenomon, Monday; adenomonmo@nsuk.edu.ng: +2347036990145
General Secretary, IASC African Member Group: Ogunleye, Timothy A; thompsondx@gmail.com; +2348068998580
Assistant General Secretary, IASC African Member Group: Lamidi-Sarumoh, Alaba A.; lalabaajibolasarulam@gmail.com; +2348060070544
Coordinator, IASC African Member Group for North West Nigeria: Umar, Kabir; ukabdullahi@abu.edu.ng; +2348109554170
Coordinator, IASC African Member Group for North Central Nigeria: Anthony Ekpo; ekpo.anthony@uam.edu.ng; +2348034634602
Coordinator, IASC African Member Group for South East Nigeria: George, Uchechukwu; george.uchechukwu@mouau.edu.ng; +2348037396309
Secretary, IASC African Member Group for North East Nigeria: Alemho Joseph Elekhekhatse; alemhojoseph2020@gmail.com; +2347037952866
DOWNLOAD: Existence of International Association of Statistical Computing (including more photos)